Nestled in the busy business area of Pulau Tikus, George Town, Penang, Huey&Wah Cafe is the first in Malaysia specialising in gourmet marshmallows.
Our cafe was set up with the intention to introduce different ways to enjoy these fluffy cloud of happiness amidst the busy-buzzling lifestyle.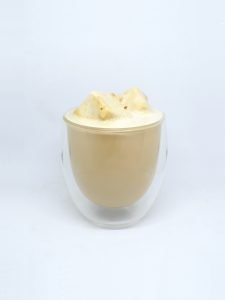 Complementing our signature mallow drinks, we have a range of thoughtfully crafted breakfast/brunch and snack menu for all. From something as basic as bread and eggs to grilled cheese sandwiches, or as classic as pasta to satisfying stews, or a crusty-on-the-outside-fluffuy-on-the-inside scone and a slice of lemon poppyseed loaf cake, we take pride in preparing all our food with care and attention, just like how we make our marshmallows. Oh and did we mention you can also customise your own oooey-gooey s'more?
And then of course, we also have a rack full of your favourite marshmallows for you to bring back to share with your loved ones.
Life is good. Aye? 😉
Check our cafe menu here.